a little cold but nice and sunny. excited about today. did some drinking yesterday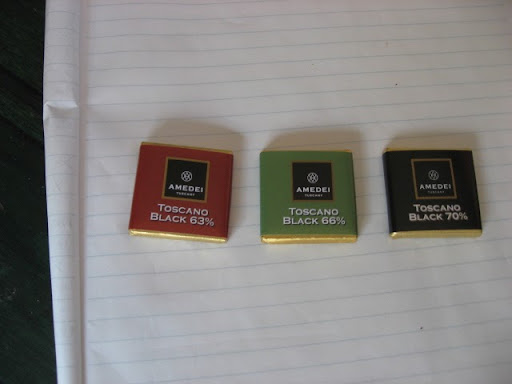 amedei toscano black 63%


look -
a light cloudy brown. very very slight orange hinting, extremely smooth 9
smell -
grahm crackers, berry jam, slight touch of coffee, some caramel. smoky wood chips, mashed strawberries, slight bay laurel hint, vanilla. like the air fresheners people put in cars (the paper ones), 9 (delicious smelling, somewhat simple)
taste -
a bit smoky, sweetness, tree bark, smoky cocoa, fruity elements, kind of tart-honey. slight acid comes in, grahm cracker with roasty bean element, purer "cocoa" with vanilla, some sort of custard, fruit jam, fruity and vanilla aftertaste quite strong, though fades somewhat quickly. 9
balance -
sweet, but not overly so. (63%) pretty impressive for that cocoa level. acid is secondary, but supportive. base is present in solid amt. 9
texture -
good, if not slightly powdery. 9
interpretation -
this is a solid 9 chocolate. very good in every respect. simple, clean, fruity. expresses the excitement of good cocoa and vanilla. easy to understand. 9
summary -
fruity, vanilla, smoky wood
-------------------------------------------------------------
amano cuyagua


look -
a very "clear" orange-brown. quite light. very good back, some slight bubbles inside 9
smell -
dry peppery (nutmeg?) tobacco, skunk, clove, vanilla, dried citrus skin, 9 (excitement)
taste -
smoky tobacco, some clean bitter, vanilla coasting in, sweet perception, more tobacco, vegetative, spice (clove etc), a sim. smell from sharffenberger jamaica (the crunchy one), medicinal plant, slight astringency (was lurking thru the whole thing) appears at end, more tobacco and woody flavors. 9
balance -
quite good. not so aware of acidity, but certainly inside the range of "well balanced". somewhat sweet feeling at times, possibly amplified by vanilla. 9
texture -
very nice. rich yet not oily, and still has a foundation of cocoa to "feel". 9~9.5
interpretation -
a very interesting and plant-feeling chocolate. a lot of tobacco, smokyness, vegetative and spice flavors. quite exciting. a little dampened by astringency at finish, but otherwise a great time. very bright and expressive of flavors. 9
summary -
tobacco, spice, planty, slight sweet
-------------------------------------------------------------
pralus papousie


look -
average brown, slightly dull in color but good shine, fair amt of bubbling. 8.5
smell -
peaches, dried citrus skin/peppery aspect, papery, glue-cocoa, very faint 9
taste -
cocoa and minty expession, more cocoa ( a bit "impure"?), banana, roasted nut, slight bitter, roasted elements, cocoa and the odd pralus herbal tea sheen. that lingers on fiinish. 8.5
balance -
nice, everything's in check. acid present in slight amts, base very fulfilling, sweetness never overpowers or comes into spotlight.
texture -
good, a good balance between rich and weighted super-fine powder. 9
interpretation -
definitely a very "cocoa" chocolate. it just seems that the pralus roast overcompensates in some cases, and tnds to stretch flavors in directions they weren't intended to be sent in. little "blips" appearing here and there that are really more a result of roasted cacao than they are a result of the individuality of the chocolate. it also seems to give it these little "sharp edges" (that's what i see in my head anyways) regardless, this chocolate was enjoyable, just simple. 8.5
summary -
simple cocoa, subtl, soft roast
-------------------------------------------------------------
pralus colombie


look -
dark brown, slight ashyness. no noticeable bubbling. 9
smell -
white pepper (not sharp), dried meats, waxy crayon, toasted bun, herbal (oregano?), woody aspect, very slight yuzu, something savory. nice, interesting, exciting. 9
taste -
off pwderyness, astringency, a candylike nutmeg, mcdonalds hamburger, more spices, toastyness, spice (nutmeg), vanilla spice and roast combination at finish. 8
balance -
a bit hollow feeling. sweet and base present (with astringency) but no acid to give it more life. 8
texture -
grainy-powdery. 7
interpretation -
again, an interesting attempt. aromas were very enticing, but texture and balance just couldn't follow thru. spices and savory elements really made for a "different" kind of chocolte, but unfortunately the rest wasn't up to par.8
summary -
unique white pepper, spice, bad texture, balance a bit off.
-------------------------------------------------------------