the next day. a little sleepy (from all that good sleeping). sun is shining, makes me feel great. like it's california or something.
--------
guittard - ambanja


look - light chestnut brown, no bubbles, smooth 9
smell -
dried papery smell, kind of beany, a little nutmeg, slight smoky, some vanilla, like the sweet potatoes at the soul food place, more vanil, 8.5
taste -
milky vanilla, sweet cocoa, slight coffee, develops stronger, blakcberry, woody, mild, sweet, lowish acid, some uncleaninliness at the back of throat, finish also somewhat bitter, faint, length cuts out. 8
balance -
ok. sweet, slight acid to back up, decent weight. i guess my feeling is that a chocolate this sweet deserves a litte "weightier" acid 8
texture -
very nice. smooth and rich melt
interpretation -
a good mild chocolate, fairly sweet. clean in most senses, just a bit odd on the back of the throat. enjoyable gentle smells, although vanilla seems to dominate. good. 8~8.5
summary -
mild, sweet, vanilla
-------------------------------------------------------------
pralus - tanzanie


look -
blackish brown, heavy bubbling, odd little chunks
smell -
fruitstand, particularly grapes and berries, herbal candles, dried raspberry, choco, slight coffee. fairly faint. wax. 8
taste -
dried pasta, cocoa, bitter, develops to cofe, fruit (berries), bitter, tea l(dark, cocoa, slight mint, roasty, roasty length. cuts out after a bit to leave bitter taste behind. 7.5~8
balance -
on the bitter side. decent weight, but low acid. sweetness not too evident due to bitter. just seems a bit confused. 7.5
texture -
decent. a bit powdery feeling, but the random chunk gives it minus points. 7
interpretation -
a fairly roasty approach to a so-so quality cocoa. i think it was managed well, and negative elements were subdued, but couldn't be eliminated. bitter was a bit strong, but variations on bitter and roasty theme kept it interesing, as well as the occasional fruit. balance was off. 7.5
summary -
roasty, bitter, imbalanced, slight fruit
-------------------------------------------------------------
pralus - venezuela


look -
a very "straight" brown. minimal bubbling, smooth texture. 9
smell -
brown butter, slight sesame, minty or dill, like pasteurized milk, apricots, slight vanil, some herbal?, roast, 9
taste -
rich and smooth, roast, the butter smell, slight minty, dark roast nuts, toasty, acid comes in , slight fruity, mettalic sheen (minty?), roasty finish, slight pleasant bitter at end some vanil, good lenghth of roast and slight vanil, milk. 9
balance -
very good, acid playing a background supporting role to the sweetness. good solid weight. bitter present in avery pleasant form. fairly harmonious. 9
texture -
excellent. rich and smooth. so rich, really. 9.5
interpretation -
a rich and smooth texture for a very roast-focused chocolate. but the roast isn't some plain old harsh burnt feeling, but a very pleasant butter/milk sensation. texture really really adds to the enjoyment. the only thing more i could ask for from this chocolate is a bit of variety on the taste. otherwise excellent. 9
summary -
rich, butter roasty, very smooth
-------------------------------------------------------------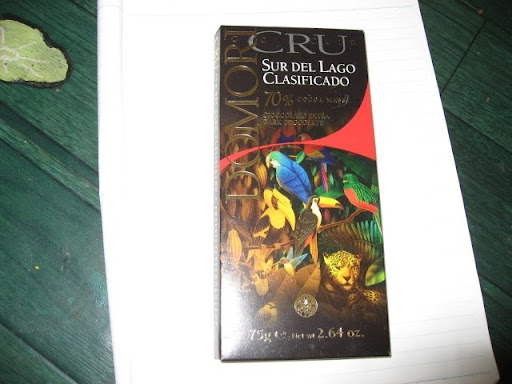 domori - sur del lago


look -
kind of a chalky brown, decent bubbling, swirling. 8
smell -
light fresh green, coconut?, toasty, piney? no, a bit of swimming pool, a nice nut, 8.5
taste -
fresh green bitter, (interesting contrast), somewhat creamy, cocoa, slightly meaty, a bit of soily mushrooms, slight fruit on finish, a bit dry. length is a bit odd. 8
balance -
good, but seems a bit low on acid. a bit of a "light and dusty" chocolate due to that. 8
texture -
chunkiness. other than that extremely fine. 8
interpretation -
interesting chocolate. a lot of fresh tastes which were enjoyable. creaminess too. was a shame the texture was ruined by the chunks
summary -
creamy, fresh, lightweight
-------------------------------------------------------------
i have no idea why i have such a bias for the pralus venezuela. it's not necessarily the most delicate or complex chocolate. maybe it's that it's so "soothing". plus those really "unique" flavors of browned butter. maybe that's what i really want in a chocolate, or at least it's a flavor i strongly associate with something of that color, so when it fits my expectations, i'm pleased.